The UTES General Music Choir is available to all students in the 4th & 5th grade. Students are exposed to traditional choral genres from classical, musical theater, jazz, rapping, show choir, sacred and secular scores. Choral elements include pitch, posture, harmony, blending, balancing, blocking, pitch percussion and even beat boxing! Performance opportunities at the Ocean City Christmas Parade 2022 and UTES Spring Choir Concert. Rehearsals are typically held in separate grades on Tuesday from 3:40-4:25pm. Students are offered the "Late Bus" or "Parent Pick-up promptly after rehearsals. Please print and fill out and return the bottom portion of the permission slip to your homeroom teacher to join. Please return the permission slip by Friday, November 4th. No Exceptions! We are going to have a fantastic year of making music together! Please check out our UTES School District Website Page for all information and rehearsal schedule.

~ All are welcome and no auditions are required.

~ Rehearsals are held bi-weekly by grade level (4th & 5th grade alternating most weeks).

~ Once your hard copy permission slip is received from the Guardian, students and guardians will receive an invitation to the UTES Google Classroom page.

UTES General Concert Choir Practice Schedule 2022-23:

Tuesday, November 15th- 5th Graders- Rehearse in the UTES Gymnasium (3:40-4:25pm)

Tuesday, November 22nd- 4th Graders- Rehearse in the UTES Gymnasium (3:40-4:25pm)

Tuesday, November 29th- 4th & 5th Graders- Rehearse in the UTES Gymnasium (3:40-4:25pm)

Friday, December 2nd- Ocean City Christmas Parade, Performance at City Hall, Arrive at 5:30pm at OC City Hall, Parade Begins at 6pm, WE ARE NOT A WALKING UNIT THIS YEAR. ONLY PERFORMING AT CITY HALL!

Tuesday, January 3th- 5th Graders- Rehearse in the UTES Gymnasium (3:40-4:25pm)

Tuesday, January 10th- 4th Graders- Rehearse in the UTES Gymnasium (3:40-4:25pm)

Tuesday, January 17th- 5th Graders- Rehearse in the UTES Gymnasium (3:40-4:25pm)

Tuesday, January 24th- 4th Graders- Rehearse in the UTES Gymnasium (3:40-4:25pm)

Tuesday, January 31st- 5th Graders- Rehearse in the UTES Gymnasium (3:40-4:25pm)

Tuesday, February 7th- 4th Graders- Rehearse in UTES Gymnasium (3:40-4:25pm)

Tuesday, February 14th- 5th Graders- Rehearse in the UTES Gymnasium (3:40-4:25pm)

Tuesday, February 21st- 4th Graders- Rehearse in the UTES Gymnasium (3:40-4:25pm)

Tuesday, February 28th- 5th Graders- Rehearse in the UTESM Gymnasium (3:40-4:25pm)

Tuesday, March 7th- 4th & 5th Graders- Rehearse in the UTES Gymnasium (3:40-4:25pm)

Tuesday, March 14th- 4th & 5th Graders- Rehearse at UTMS Gymnasium, (6:00-7:30pm) Dress Rehearsal- Please do NOT wear outfit. Practice ONLY!

Wednesday, March 15, 2022- UTES Spring Concert @ 7pm in the UTMS Gymnaium. UTES Choir Members please arrive at 6:00pm for a Dress Rehearsal with Mrs. Aristizabal. Doors to the General Public will be at 6:45pm. Wear your favorite nice outfit.

If you have questions, please reach out to Mrs. Aristizabal at:

aristizabal@upperschools.org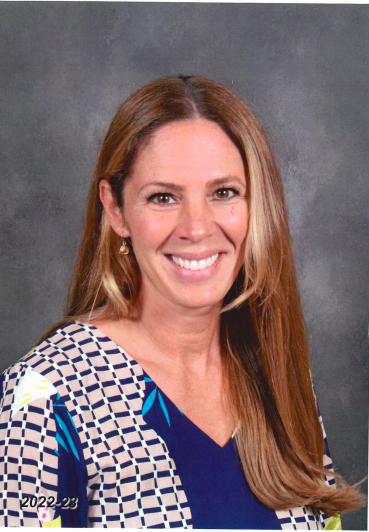 Phone: 609-628-3500 ext. 2296
Email:
Degrees and Certifications:
BA Music Education~ Classical Opera & Piano
Mrs.

Abbie Aristizabal
Hello! It is my pleasure and honor to be the Upper Township Middle School General Music Teacher and Choral Director of both the UTMS and UTES. For 18 years, I have been teaching music education, and this is my seventh year directing the UTES Choir for the Upper Township School District. My goal is to inspire students to have a life-long relationship with music and my commitment is to the improvement of the student. These students are my dream come true! Thank you!