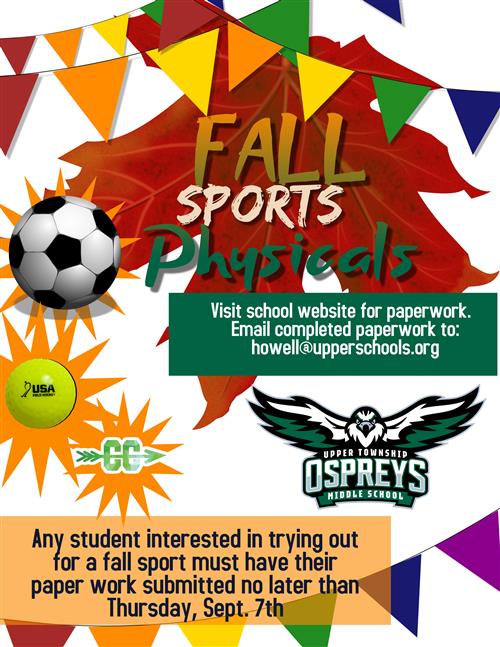 Any student wishing to try out for an Upper Township Middle School sport requires a sport physical to be completed by the student's physician. Once completed by the student's physician it needs to be reviewed and cleared by the school physician prior to the student trying out. This is a state law and there are NO EXCEPTIONS! Student physicals are valid for one full calendar year from the date the exam was completed.
Please contact your child's doctor to get their sport physical completed ASAP. The new parent health history update is attached to the sport physical packet please complete (the last page of packet). If you answer yes to the question about your child testing positive to COVID-- a clearance letter from their physician is needed that states they have completely recovered from COVID and there are no restrictions. (Required by the school physician)
CLICK HERE
Please scan or take a picture with your phone and email the completed packet to howell@upperschools.org or return to the Main Office Monday-Thursday between 8:00AM-2:00 PM. The last date to receive physicals for any student interested in participating in a fall sport is Thursday, September 7. Documents need to be submitted on time in order to get the paperwork signed off by the school physician and cleared to try out for a fall sport. Any questions please email the school nurse Desiree Howell at howell@upperschools.org.
---